Garland Mountain Trail Run - May 14th 2022! - Registration is CLOSED for this event.
Thanks to all the racers, volunteers and sponsors who participated in the 2022 Assault on Garland Mountain! We hope you enjoyed the course and hospitality of the Friends of Garland Mountain Trails. Race results and photo links can be found below:
Garland Mountain Trail Run (Single Race) Registration Information
6.2 Mile Race
On or Before April 23 - $40
After April 23 - $45
13.1 Mile Race
On or Before April 23 - $50
After April 23 - $55
(+$2 for online registration fee for all online registrations)
300 Runner Limit - Register soon as all of our events in 2020/2021 sold out!
A portion of the proceeds from this event will benefit the Friends of Garland Mountain Trails for the continued maintanence and development of trails at Garland Mountain Horse and Hike Trails. Registration fee includes a soft and comfy tri-blend shirt and commemorative swag item.
Entire Trail Run Series (3 Races + Sweatshirt) Registration Information
2022 Mountain Goat Trail Run Series Registration will consist of 3 races, listed below and a Mountain Goat Adventures Hooded Sweatshirt, which will be delivered at the first race. Series Registration is only available until March 15th, as sweatshirts need to be pre-ordered.
2022 Trail Run Series Races include:
Blankets Creek Trail Run (5 mile and 9 mile course) - April 2, 2022
Big Frog Trail Run (7 mile and 13.1 mile course) - April 24, 2022
Garland Mountain Trail Run (6.2 mile and 13.1 mile course) - May 14, 2022
2022 Sweatshirt Design: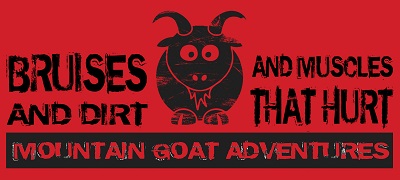 Short Course 3 Race Series plus Sweatshirt - $135 (plus $5 if registering online)
Long Course 3 Race Series plus Sweatshirt - $160 (plus $5 if registering online)
Sizing Info - Hooded sweatshirts are in men's sizes and they shrink a good bit, so order a size or two up if you want a baggy fit.
Online registration closes at 5 pm on Friday May 13th or when the event fills up. Sorry, no race day registration.
Race Schedule
Thursday, May 12
4:00 - 7:00 pm Optional early Packet Pickup, Outdoors at Blankets Creek Trails, 2261 Sixes Rd, Canton, GA 30114 (NOTE THIS IS NOT THE RACE VENUE - IT IS JUST A CONVENIENT LOCATION FOR EARLY PACKET PICKUP)
Saturday, May 14
6:30 - 7:45 am Check-In/Packet Pickup
8:00 am 13.1 mile run start
8:20 am - 6.2 mile run start
10 am - 6.2 mile Awards, short course Series Awards to follow
11 am - 13.1 mile Awards, long course Series Awards to follow
Directions to Garland Mountain Horse and Hike Trails
1411 Garland Mountain Way
Waleska, GA 30183
30-35 minutes from Woodstock/Canton area.
Take I-75 north to I-575 north. Exit at #16 and take left fork of exit towards GA 20 West/GA 140 West. At light turn right onto GA 140/Marietta Highway. GA 140 turns to the left at Waleska Street (there is a Walgreens on this corner). Take a left and head north on Hwy 140. Continue north through Waleska and go another 2-3 miles. Turn right onto Garland Mountain Trail, then turn left on Garland Mountain Way, following the signs to the park.
Mountain Goat Adventures Trail Run Operational Changes for COVID-19 (This could change or become more restrictive depending on CDC guidelines at time of race)
• Health screening questionnaire for all event volunteers and staff per CDC recommendations. No one that has tested positive in the past 14 days, has symptoms of being sick or a fever will be allowed to participate.
• Registration and check-in stations will be spread out to ensure 6' minimum spacing and 6' minimum spacing for those standing in line. Participants will have the option of picking up race packet on Thursday night to avoid Saturday morning check-in. Waivers should be printed and signed at home and brought to the race. Hand sanitizer available for event staff and participants checking in.
• Waivers are to be printed at home and brought to the event, no community pens.
• Aid station on course will have water, sports drink and gels. Hand sanitizer, disinfecting wipes and spray available at the aid stations.
• Results will be posted at mgaresults.com so that participants can view the results immediately via their own phone.
• Hand wash stations and restrooms available at start/finish area.
• Awards in a large outdoor open area.
Camping and Lodging
Camping is not allowed in Cherokee County Parks, however there are several campgrounds along Lake Allatoona, which is 20-30 mins south of Garland Mountain, depending on which location you choose.
The US Army Corps of Engineers has a variety of camprounds available HERE.
Full Hookups and sites with water/electric are available at Red Top Mountain State Park
The closest hotels are in Canton, Georgia and then Woodstock, Georgia is about 10 minutes further south.
Categories
The race will feature the following age group categories for both the 10k and 13.1 mile race. Awards will be presented to the top three male and female finishers in each age group, in each race. We will also recognize the top three overall male and female finishers. All kids race participants will receive a finisher medal. All 13.1 Mile Finishers receive a finisher medal.
Female under 18
Female 19-24
Female 25-29
Female 30-34
Female 35-39
Female 40-44
Female 45-49
Female 50-54
Female 55-59
Female 60-64
Female 65-69
Female 70-74
Female 75+
Male under 18
Male 19-24
Male 25-29
Male 30-34
Male 35-39
Male 40-44
Male 45-49
Male 50-54
Male 55-59
Male 60-64
Male 65-69
Male 70-74
Male 75+
Awards
$100 cash prize to first place overall male and female runner in the long AND short course event!
In addition to prizes and medals for the top 3 overall male and female, medals will be presented to the top 3 finishers in each age category.
All of our first place winners in the 13.1 mile race will receive a custom podium shirt. All finishers in the 13.1 mile race receive a finisher medal.
The awards ceremony for the 10k race will take place at approximately 9:45 am. The awards ceremony for the 13.1 mile race will take place at approximately 11:00 am to allow the majority of half marathon racers to finish. You must be present at the awards ceremony to receive your award. Awards and prizes will not be mailed. If you win something and bail on the awards ceremony, your prize will be added to the raffle goodies pile or given to a race volunteer. Series awards will follow race awards for both short and long course.
If you finish the race after the awards ceremony but earn a medal in your category, you will receive your medal as you finish.
2022 Event Benefitting the Friends of Garland Mountain Trails
A portion of the proceeds from this event will benefit Friends of Garland Mountain Trails to be put towards trail maintenance and construction at the park. This will help them complete the remaining trails in the park, bringing the total mileage up to 20+ miles total. There are currently 19 miles of trail completed at Garland Mountain.
Kids Race
We will also offer a FREE kids 10 and under race, which will take place on a short section of the Palomino Trail and is approximately a quarter of a mile long. All kids race participants will receive a finisher medal. The kids race is not officially timed and no pre-registration is required, however parents must sign a waiver for their children and pick up a kids race number, available at race check-in.
T-Shirts and Other Swag
2022 shirt design!

2022 Lunch Totes:

All entries include a soft, cotton blend T-shirt and a "Race Fuel" Lunch Tote. Sizes guaranteed if you register before April 22. After April 22, sizes are first come-first served. If a size is shown in the menu when you register, it is still available. Shirts run true to size, Ladies shirts are slightly longer and more fitted. Register early, you will want one of our shirts! If you register late and we run out of event specific shirts, you will receive a Mountain Goat logo shirt with your registration.
2022 Series Rules
You must FINISH in all 3 races to be eligible for series awards and you must also be present at the Garland Mtn Event on May 14 to receive your award. Awards will not be mailed, however they are available for pickup in Canton, GA after the Garland Mountain event.
Series points do not transfer between short and long courses, so if you are going for an overall series award, you must race either the short course in all races or the long course in all races.
Series points do not transfer between age groups, so you need to race in the same age group for the entire series. All race ages will be determined by your age on Dec 31, 2022 to avoid age-up scenarios in the middle of the series.
All races count toward final series rankings, there are no dropped races.
In the event of a tie in an age group, the racer with the higher placing at the Garland Mountain Series Finale event will receive the higher ranking.
The top 20 in each age group will receive points..1st place will receive 20 pts, 2nd will receive 19 pts, and so on down to 20th place, which receives 1 pt. You will also get 1 bonus point for each racer you beat, so if you place high in a large field, you will receive more points than the same placing in a small field.
Cancellations, Transfers, and Inclement Weather
Please note EVENT ENTRIES ARE NON-REFUNDABLE once you register, as we plan for your attendance by purchasing your race shirt and swag, meals, insurance, etc and most other costs associated with your entry need to be paid up front. No refunds will be given in the event of an act of God or event beyond the control of the Race Organization (i.e. COVID) that requires cancellation of the race for the saftey of participants. If the event is rescheduled all entries will be transferred to the reschedule date.
We do, however, understand that injuries happen, you got sick or life was just too chaotic to train for one of our events so we have a no-penalty transfer policy. You may transfer your entry to another racer in the SAME EVENT without penalty until May 9, 2022. You are responsible for finding the person interested in buying your entry and working out payment with them. Entries do not transfer to other events nor do they transfer year to year. If you would like to sell your entry to another racer, please contact lisa@mountaingoatadventures.com with the name and email of the person you wish to transfer your entry to no later than May 9.
The race will run rain or shine, however, the Race Director reserves the right to cancel or modify segments of the event as deemed necessary for participant safety or preservation of trail. Once the race has started, no refunds will be given due to delayed start or early conclusion of the race.
Any Questions?
If you have a race question that was not answered above or would like to inquire about sponsorship opportunities, please email the race director at lisa@mountaingoatadventures.com