2023 Rope Mill Dirty Duathlon and 3.3 Mile Trail Run presented by Northside Hospital-Cherokee - November 11, 2023! Registration Opens January 1st!
Race Schedule
Thursday, November 9, 2023
4:00 pm to 7:00 pm - Optional Early Packet Pickup and Registration at OutSpokin' Bicycles on Sixes Road.
Saturday, November 11, 2023
7 am to 8:30 am Packet Pickup
8:30 am Race Brief
8:58 am Trail Run Race Start (Group start)
9:00 am Duathlon Race Start (Staggered starts by category)
10:15 am Running Race Awards
11:15 am Duathlon Awards
Directions to Rope Mill Park
690 Old Rope Mill Park Rd
Woodstock, GA 30188
From the south, take I-575 north to exit 9, Ridgewalk Parkway. Turn right onto Ridgewalk Parkway and then take an immediate left onto Rope Mill Road at next intersection. Rope Mill Road dead ends at the park.
Race Entry Fees
All entries must be received by Thursday, November 9th at 5 pm or sooner if the event sells out. There will be no race day registration. There is a combined limit of 325 racers in this year's event.
Duathlon Individual
On or Before October 12, $55
After October 12, $60
Duathlon 2 Person Team Relay
On or Before October 12, $90 (per team)
After October 12th, $100 (per team)
Duathlon 3 Person Beginner Team Relay
On or Before October 12, $125 (per team)
After October 12, $140 (per team)
3.3 Mile Trail Run
On or Before October 12, $40
After October 12, $45
325 Combined Duathlon/Run Limit - Register early as this event has sold out since 2020!
A portion of the proceeds from this event will be donated to SORBA Woodstock for their continued maintenance and upkeep of the Blankets Creek and Rope Mill Trails.
Online registration will close at 5 pm on Thursday, November 9 or sooner if the event fills up.
Please contact lisa@mountaingoatadventures.com if you encounter any problems while trying to register, and we will try to help you out.-->
Race Categories and Awards
Duathlon Individual
Beginner Female
Intermediate/Sport Female
Advanced/Expert Female
Beginner Male Under 40
Beginner Male 40+
Intermediate/Sport Male Under 40
Intermediate/Sport Male 40+
Advanced/Expert Male Under 40
Advanced/Expert Male 40+
Male 50+ (Beginner/Sport/Expert combined)
Clydesdale (200 lbs +)
Open Singlespeed (all ages, genders, and abilities)
Junior Male 18 and under
Junior Female 18 and under
Duathlon Team Relay
2 person male intermediate/expert
2 person coed intermediate/expert (minimum 1 female, 2 person female teams allowed)
2 person male beginner/intermediate
2 person coed beginner/intermediate (minimum 1 female)
2 person female (all ages)
2 person 18 and Under (any gender combination)
2 person Adult/Child (18 and Under)
3 person Beginner/Family (all 3 beginner racers)
3.3 Mile Trail Run
We will utilize the same 5 year age group brackets that are seen at our Trail Run Series events, for both males and females.
Female under 18
Female 19-24
Female 25-29
Female 30-34
Female 35-39
Female 40-44
Female 45-49
Female 50-54
Female 55-59
Female 60-64
Female 65-69
Female 70-74
Female 75+
Male under 18
Male 19-24
Male 25-29
Male 30-34
Male 35-39
Male 40-44
Male 45-49
Male 50-54
Male 55-59
Male 60-64
Male 65-69
Male 70-74
Male 75+
Duathlon Awards
Medals and prizes will be presented to the top 3 finishers in each category. Custom podium shirts for the first place finisher in each duathlon category.
The awards ceremony and post race party for the Duathlon will take place at 11:45, to allow the majority of racers to finish. You must be present at the awards ceremony, or have someone pick up your award, as medals will not be mailed. If you bail on the awards ceremony and it turns out you won something, your prize will be added to the raffle goodies pile or given to a race volunteer.
Trail Run Awards
Medals will be presented to the top 3 finishers in each category. The top overall male and female will also be recognized and receive some special prizes.
The awards ceremony for the trail run will take place at approximately 10:15 am. You must be present at the awards ceremony, or have someone pick up your award, as medals will not be mailed.
I'm new to this...which category should I enter?
If you are trying to choose which solo category to enter here are some suggested Avalanche Trail lap times (Loops 1, 2, and 3) based off of last years race times:
Advanced/Expert Male - 34 minutes or less
Intermediate/Sport Male - 34 to 40 minutes
Beginner Male - 40+ minutes
Advanced/Expert Female - 38 minutes or less
Intermediate/Sport Female - 38 to 45 minutes
Beginner Female - 45+ minutes
If you are riding a singlespeed, you may enter in the singlespeed cateogory or you may race in any other age/ability class that you would qualify for..just be prepared for a flat start on the concrete path. Juniors may also enter in either the Junior category or one of the respective gender/ability level categories. The Male 50+ category is a combined ability level category so that those over 50 can compete against competitors of the same age. If you are over 50, you may race in any of the 40+ divisions as well, if you feel those would be more appropriate. There are plenty of options so there should be a category that is fair and suits everyone.
We are again offering a 3 person Beginner Division for new beginner racers or families who want to give an off road duathlon a try. Each member of the team will complete one leg of the race. There are no age or gender divisions as the category is intended for beginners and first time racers only.
Mountain Goat Adventures Operational Changes for COVID-19 (Updated 12/1/22)
• Health screening questionnaire for all event volunteers and staff per CDC recommendations. Participation for those recently testing positive for COVID-19 based on current CDC quarantine recommendations.
• Masks are not required for any aspects of this event, as all activities are outdoors.
• Registration and check-in stations will still be spread out to ensure 6' spacing. Waivers should be printed and signed at home and brought to the race. Hand sanitizer available for event staff and participants checking in.
• Some participants/volunteers may choose to wear a mask or maybe they just want to maintain some personal space. Please be respectful and continue to practice social distancing with those individuals.
• Condensed pre-race group meeting. A detailed participant Update will be emailed to participants ahead of time, which goes over all details of the event.
• Results will be posted at mgaresults.com so that participants can view the results immediately via phone and via tablets at a results station we will set up.
• Portable Restrooms and handwash stations will be available at start/finish area.
• Awards will be held in a large outdoor open area.
Camping and Lodging
The closest hotels are in Woodstock, Georgia.
Camping is not allowed at Rope Mill Park, however there are several campgrounds along Lake Allatoona, which is 20-30 mins north of Rope Mill Park, depending on which location you choose.
The US Army Corps of Engineers has a variety of camprounds available HERE.
Full Hookups and sites with water/electric are available at Red Top Mountain State Park
T-Shirts and Swag - Guaranteed Size Deadline October 20
Yes, you're going to want one! Shirts are short sleeve cotton/poly/rayon tri-blend tees that are ultra comfy. Commemorative event coffee mugs for those who register by October 20!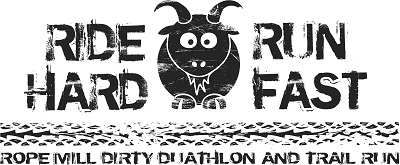 Past Years Shirt Design!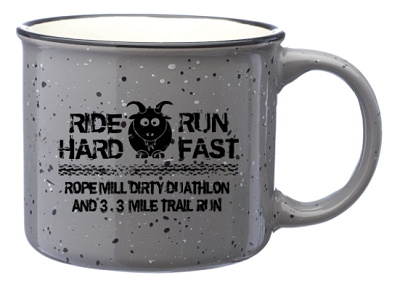 Past Year Coffee Mug Design

After October 20, limited sizes will be available in the race shirt (allotted as you register) and you will receive a Mountain Goat logo short sleeve logo tee if/when we run out of race shirts in your size.
Race Scoring
Mountain Goat Adventures utilizes Chip Timing using MyLaps Bibtag Technology and our Real Time Results System. See your finish time and placing in your category right after you cross the line!

How Does This Event Actually Work?
Solo racers will race the entire course, including the 5.5 mile bike, 3.3 mile run, and another 5.5 mile bike. After each segment, all racers will return to a central transition area where their bikes, running shoes, food/drinks, and any other items needed for the race will be located. Racers may rest in the transition area or they may grab their gear and move onto the next discipline immediately.
For teams, there will only be one team member out on the course at any given time. When the bike rider returns from the first bike loop, the runner will then go out on the run OR the person who just did the bike may also go out on the run. Once the runner returns, they can either switch again or the same person can complete the final bike loop. Each team member must do at least one segment of the race, but how they are split up is completely up to the teams. Racers will always go through the transition area after each discipline, so there is no advantage gained by solo racers or those teams who opt to not switch teammates after each segment.
Duathlon Rules
No headphones or earbuds on bike or run. This is a staggered start race and you need to be able to hear those behind you.
E-bikes or pedal-assist bikes are not allowed in any duathlon categories.
All participants will be required to wear a bicycle helmet at all times while riding. Penalty is DQ.
No outside (non racer) assistance is permitted at any time during the race. Racers may assist other racers.
All food and drink for the bike portion of the race must be either carried with the racer or staged in the transition area. There will be no water stops on the bike course. There is a water stop at Mile 1 and Mile 2 on the run course.
You must run or walk your bike into and out of the transition area.
After crossing the finish line, racers will be directed into a finishing chute so that they can be scored appropriately.
Race numbers must be visible at all times.
Cutting the course is not permitted. Penalty is DQ.
Littering along the course is not permitted. Penalty is DQ.
The relay exchange will take place in the transition area. This exchange will be done by teammates physically tagging one another. Bikes for teams need to be staged on the bike racks and may not be removed until the runner tags the biker.
In the event of a mechanical, the racer must cross the finish line with his/her bike to receive an official finish time.
Please exercise caution and good sportsmanship when passing other racers on the trail.

Yellow Jacket Alert!

Fall in Georgia means yellow jackets are very aggressive and prevalent in the woods. They make their nests in the ground and typically aren't discovered until a lot of ground disturbance (for example from 250+ people in a race) brings them out. We recommend everyone carry Benadryl or other meds as necessary.

Parking and Equipment Drop Off

Parking is somewhat limited at Olde Rope Mill Park so racers will be parking in one of three locations: the small lot on the left side as you enter the park, the auxiliary gravel lot at the top of the hill on Rope Mill Rd or at the Kirk-Rudy office building at the intersection of Rope Mill Rd and Ridgewalk Parkway. Please plan accordingly as it may be up to a half of a mile walk/ride down to the transition area. We recommend putting all your race gear in a backpack or duffle and riding down to the start/finish. There is no gear drop off at the park as there is not enough room to turn around.

Cancellations, Transfers, and Inclement Weather

Please note EVENT ENTRIES ARE NON-REFUNDABLE once you register, as we plan for your attendance by purchasing your race shirt and swag, meals, insurance, etc and most other costs associated with your entry need to be paid up front. No refunds will be given in the event of an act of God or event beyond the control of the Race Organization (i.e. COVID) that requires cancellation of the race for the saftey of participants. If the event is rescheduled all entries will be transferred to the reschedule date.

We do, however, understand that injuries happen, you got sick or life was just too chaotic to train for one of our events so we have a no-penalty transfer policy. You may transfer your entry to another racer in the SAME EVENT without penalty until November 6, 2023. You are responsible for finding the person interested in buying your entry and working out payment with them. Entries do not transfer to other events nor do they transfer year to year. If you would like to sell your entry to another racer, please contact lisa@mountaingoatadventures.com with the name and email of the person you wish to transfer your entry to no later than November 6.

The race will run rain or shine, however, the Race Director reserves the right to cancel or modify segments of the event as deemed necessary for participant safety or preservation of trail. Once the race has started, no refunds will be given due to delayed start or early conclusion of the race.

Any Questions?

If you have a race question that was not answered above or would like to inquire about sponsorship opportunities, please email the race director at lisa@mountaingoatadventures.com